INFORMATION & RESOURCES for FAMILIES
Looking for more information and resources for families?
Checkout our Archive Section.
Spanish Bright Futures Family Pocket Guide: Bright Futures Guía Para Las Familias
AVAILABLE FOR JUST THE COST OF SHIPPING AND HANDLING!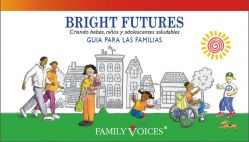 A companion to the popular English version released in 2012, the Spanish Bright Futures Family Pocket Guide is designed for a broad range of Spanish-speaking families, including those with children and youth with special health care needs. This translation is full of the same variety of family resources found in the English guide, with Spanish equivalents where possible.
Developed for families by families, in partnership with the AAP and other professionals, both the English and Spanish versions of the guide are based on the American Academy of Pediatrics (AAP) Bright Futures: Guidelines for the Health Supervision on Infants, Children, and Adolescents, 3rd edition.
Information and encouragement for the roles families play every day in the health and well-being of their children 
Information about the importance of well child visits for all children, including children and youth with special health care needs
Encouragement to speak up and to take active roles in their children's care
Encouragement to form partnerships with other families and with professionals to improve policies, care, services, and support for all children and families
An overall framework for children's good health and insight into all those who contribute to it
Current, comprehensive, succinct information about child development
Links to resources and further sources of information for children's good health, in Spanish, where available
For more information, contact us at: BFPocketGuide@familyvoices.org.
Thanks to the generous support of the American Academy of Pediatrics Bright Futures National Center, Family Voices is providing copies of the Spanish Family Pocket Guide for just the cost of shipping and handling.
ORDER NOW from the Family Voices website!
April is Autism Awareness Month!
April 3, 2014
According to new data from the Autism and Developmental Disabilities Monitoring (ADDM) Network of the National Center for Birth Defects and Developmental Disabilities, Centers for Disease Control and Prevention (CDC), one in 68 children are identified with autism spectrum disorder (ASD). The number of children diagnosed with ASD continues to rise.
Read more about this ADDM study here:
Additional Autism Spectrum Disorder Resources
The Maternal and Child Health Library at Georgetown University released a new knowledge path and set of resource briefs about autism spectrum disorder. You'll find information important to families on ASD screening, diagnosis, treatment, care, and the impact on family life. The knowledge path also includes tools for health care professionals, program administrators, policymakers, and researchers to help them learn more about ASD.
The knowledge path is available here: www.mchlibrary.org/KnowledgePaths/kp_autism.html
Other ASD resources from the Maternal and Child Health Library include:
The Affordable Care Act: Prevention and Health Promotion for Everybody!
January 28, 2014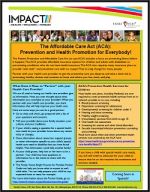 The Patient Protection and Affordable Care Act (or just ACA) includes a focus on preventing illness before it happens. The ACA provides affordable insurance options for children and adults with disabilities or pre-existing conditions who do not have health insurance. The ACA also requires many insurance plans to provide "well visits" and preventive care with no copays! That is a big change for many people.  
Partner with your health care provider to get the preventive care you deserve and take a lead role in promoting health choices and routines at home and where you live, work, and play.  
Family Voices Project IMPACT has a new resource on the ACA and Health Promotion. You'll find tips and information on:
What does it mean to partner with your health care provider?
The ACA's preventive health services for children. 
Simple steps you can take on the road to healthier lifestyles.  
Prevention and Health Promotion Happens at Home!
To prevent illness and stay as healthy as possible, the ACA also focuses on Bright Futures health promotion activities and recommendations. Bright Futures is the name of the American Academy of Pediatrics program that is built on prevention and health promotion.  
Many of the Bright Futures recommendations and activities happen at home or in the community, not in the doctor's office. What you do at home every day matters and will have lifelong impact on your family's health and well-being.  
Remember, if you have a child with special health care needs, you will still need to advocate for your child to ensure that he or she receives the treatment and services needed.  
Download this new IMPACT resource here:
http://www.fv-impact.org/files/6913/9083/6626/ACA_handout_final.pdf   
For more health and wellness ideas and resources for families:
Playtime Safety: The Right Toys for Children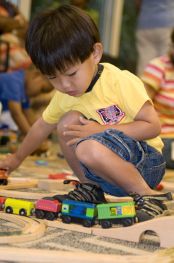 Are you looking for holiday gifts for a special youngster on your list? Or maybe you are just taking advantage of the toy sales that are everywhere this time of year. If so, it's important to make sure the toys you choose are right for the child.  
The Children's Safety Network reminds us to keep three things in mind when looking for toys:
Is the toy intended for your child's age?
Does the toy need any special protection gear like helmets or padding?
What are the toys made of?
Archive Highlights: