SECTIONS: Background ~ Child and Family ~ Ages and Stages ~ What You Can Do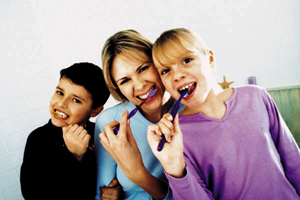 Oral health is an important part of a child's overall health. Oral health is more than teeth. It includes the gums, lips, mouth, and face. Chewing and swallowing are also part of overall oral health because these motions affect a child's nutrition and well-being. Oral health may also influence children's self-confidence - how they feel about their overall appearance.
Oral health for children involves:
Appearance of new teeth – Whether it's your baby's first tooth peeking through the gums, or your teenager's wisdom teeth, it is important to protect these teeth and keep them healthy.
Jaw and tooth position – How teeth "fit" is important. Straight teeth line up and help a child chew and speak properly.
Keeping teeth healthy – Brushing with fluoridated toothpaste, twice a day, flossing once a day, and avoiding too many foods high in sugar helps keep teeth cavity-free.
Correcting problems – Getting cavities filled before they become serious, and repairing teeth hurt in accidents is important.
Child and Family
Dental caries – bacteria in the mouth combined with sugar in foods your child eats can cause cavities and other forms of tooth decay. Caries are the second most common childhood illness (the common cold is first). If left untreated, dental disease can be a major health problem. The good news is that dental caries is largely preventable. In addition to seeing a dentist or other oral health provider, teaching your children to brush and floss, and ensuring they get enough fluoride (in tap water, tablets, supplements or fluoride varnish) will help maintain oral health and keep them smiling. Good dental habits are good for the entire family!
There are dentists who are trained to work with children who have sensory integration issues, and who understand how to provide dental care to children with a range of special needs and disabilities.  They are often known by other families, so contacting your Family to Family Health Information Center is one way to find out where to find dentists with this background. 
Ages and Stages
Infancy: Your baby's teeth are growing long before you see them. Around 6 months you may see that first toothy grin! Oral health care should start before teeth appear. Use water and a small, moist, clean cloth to wipe your baby's gums after feedings. Take your baby to the dentist by the first birthday, or 6 months after the first tooth appears.
Early Childhood: A toddler's mouth is filling with teeth. Eating healthy foods and brushing your child's teeth twice a day helps keep teeth healthy and helps your child develop good oral health habits.
Middle Childhood: Parents are excited when their baby's first tooth appears. It's even more exciting when your child loses that first tooth. By this age, children may be old enough to use a toothbrush, with you by their side. Be sure your children have dental check ups.
Adolescence: Your teenager is able to take charge of daily tooth care. It is important for teens to brush and floss, as they often have sugary snacks and drinks that can lead to cavities. Teens may be involved in activities that can lead to tooth injury and decay.
Children with Special Health Care Needs: Talk to your child's doctors about how special needs may affect teeth and what the dentist should know before your child's oral health check up.  Other parents are often the best source of information on local dentists who understand the needs of Children and Youth with Special Needs. 
What Can Families Do to Promote Oral Health?
Oral health begins at home. Teach your children to brush with fluoridated toothpaste and floss their teeth. Encourage them to eat healthy foods, and to limit foods high in sugar. Another important way to promote lifelong healthy oral health is to create a partnership with a dentist or other oral health providers. This family and professional partnership is part of creating a "dental home" - a place where your child gets routine oral care and help for any oral health emergencies.
Your primary care provider can also be a partner in helping maintain your child's oral health. The American Academy of Pediatrics and the American Academy of Pediatric Dentistry recommend that babies see their primary care provider for an oral health review at 6 months old. This will help determine if your baby is at high risk for tooth decay and needs to see a dentist. If your baby is not at risk, the first dental visit should be around the first birthday or sooner if teeth have appeared. Dental visits should happen every 6 months, or on a schedule your dentist recommends.
Here are some other ways to help keep your child and family's teeth healthy:
Do not share utensils. Do not clean pacifiers by putting them in your mouth. This transfers bacteria to your child's mouth and leads to dental caries.
If your baby drinks from a bottle and can't hold it, hold it for her. Propping bottles can cause formula or juice to pool around gums and teeth. This causes tooth decay - even before teeth appear.
Provide healthy food choices and limit sugary drinks and snacks.
Brush your child's teeth twice a day, or help him brush his teeth until your child is old enough to do a good job. Make learning to brush teeth a game!
Teach by example. If you brush and floss daily and see your dentist regularly, it will become a family habit.
For children under 2, brush with water or non-fluoridated toothpaste and for children ages 2-5, use a pea-sized amount of fluoridated toothpaste, or follow your dentist's specific recommendations.
Help your children understand that smoking, chewing tobacco, and not wearing a seat belt to protect the mouth in the case of an accident are bad for teeth. Mouth guards are important for contact sports!
Talk to your family dentist and have a plan in case of a dental emergency. Know who to call and what to do if an accident happens.
Children and youth with special health care needs can have additional oral health issues due to their medical condition, medications, or other factors. It may be hard for some children to tolerate dental exams and procedures. They may need special supports and adaptive equipment.